Today is the Global Information Governance Day! ​
#GIGD occurs on the third Thursday in February and was established to raise awareness on information governance.
WHAT IS INFORMATION GOVERNANCE (IG)?
IG includes activities and technologies that organisations employ to maximise the value of their information while minimising associated risks and costs.
IG is based on a holistic approach to managing corporate information by implementing processes, roles, controls and metrics that treat information as a valuable business asset:
make information assets available to those who need it,
provide employees with data they can trust and easily access while making business decisions,
reduce legal risks associated with the unmanaged or inconsistently managed information.
The information governance, after a preliminary analysis, results in a classification of the information according to its nature or its value. This classification enables the identification of your information with engaging/probative/legal value, (for instance business contracts, policies…).
NEWS ON INFORMATION GOVERNANCE IN EUROPE!
Information governance has never been as important as in 2018. The European Union pursues its objective of restoring trust and imposing transparency on businesses. All companies as of 2018 "must watch over the outcome of their data, from their creation to their destruction."
In this way, Europe is focusing on strengthening digital trust through a policy of protection and regulation, as reflected in:
General Data Protection Regulation (GDPR), in force in May 2018.

Three objectives :

strengthen the rights of people + creation of a right to the portability of personal data,

empower stakeholders dealing with data,

increase awareness of the regulation thanks to reinforced cooperation between the authorities

European regulation eIDAS (Electronic Identification and Trust Services) n°910/2014, which has been fully implemented since the 1st of July 2016, has demonstrated the willingness of member states to democratise digitisation by:

enhancing the security of electronic exchanges;
recognising the universal value of the electronic signature;
granting of legal value to a digital document. (In Luxembourg the legal framework anticipates and supports this democratisation of the digitisation. The law of 25th of July 2015 on electronic archiving recognises the probative value of electronic copies of paper documents produced by a PSDC (Provider of Digitisation and Conservation Services) certified company to respect all the conditions of strict fidelity to the original and, moreover, the presumption of conformity with the original.)
HOW TO RESPOND TO THESE NEW REQUIREMENTS/OBLIGATIONS?
1. SIMPLIFY & STRENGTHEN INFORMATION GOVERNANCE WITH ARCATEG™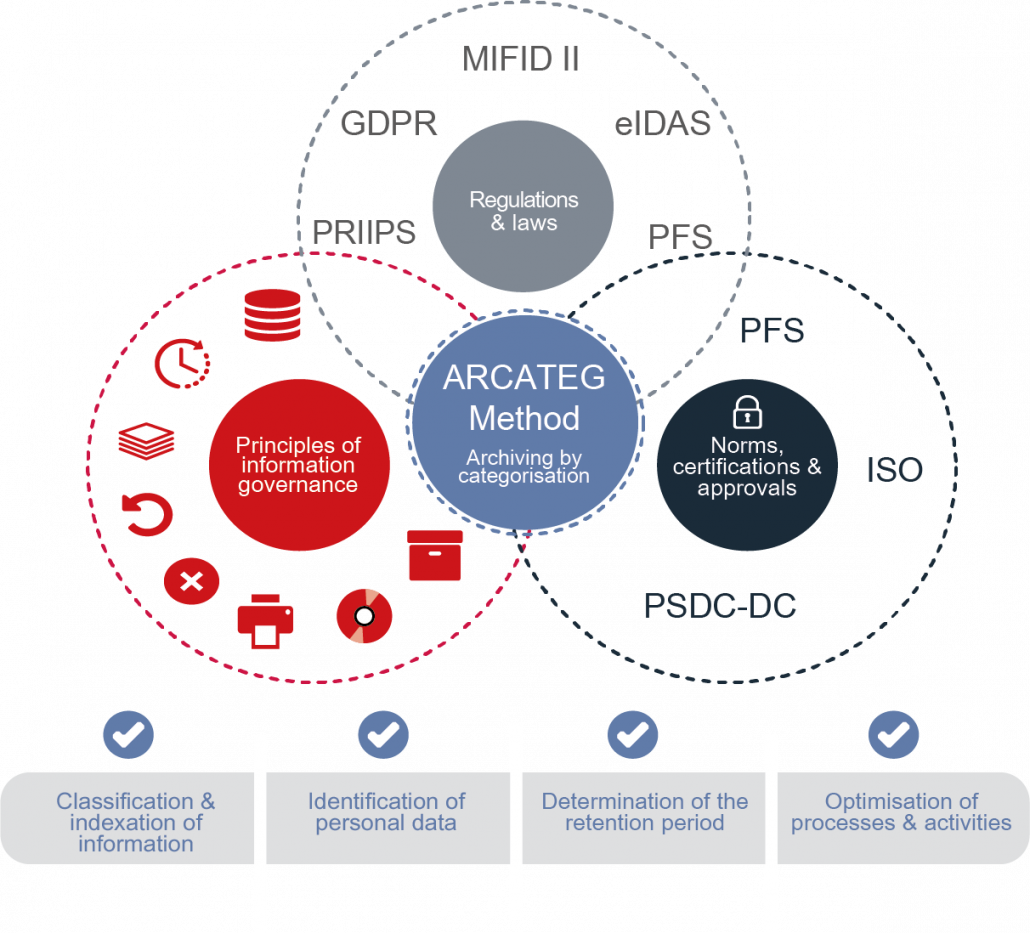 Being a trusted partner of Marie-Anne Chabin, an internationally recognised expert in the archiving and digital information management field, as well as the creator of the Arcateg™ method, Labgroup integrates this method into its service offering.  Arcateg™ is an original and effective methodology that accelerates and consolidates information management rules and their implementation.
The 100 universal categories of the Arcateg™ ranking framework cover all possible values ​​of information on all media and thus facilitate the audit and qualification of risk information in the enterprise. These conservation categories make it possible to structure the lifecycle of documents and data rigorously and sustainably.
With Arcateg ™, you can both simplify and strengthen information governance across the organisation (lifecycle management of files and folders, data security, content access). You can also decline to use the Arcateg ™ repository according to various specific projects: improvement of physical archiving, quality and completeness of the retention rules, identification of personal data and compliance with GDPR.
2. …AND WHAT ABOUT MY LEGAL DOCUMENTS? CALL FOR A PSDC-DC!
First PSDC-DC company in Luxembourg, Labgroup is certified as:
Provider of Digitisation Services, in other words Labgroup is empowered to create legal electronic copies of paper documents;
Provider of Conservation Services, which guarantees the integrity, confidentiality and persistence of electronic archives throughout their retention period.
3. GO DIGITAL ! LET'S GO FOR A PAPERLESS OFFICE!
Labgroup provides electronic document signing services, in collaboration with its partner Nowina, enabling companies to:
Facilitate the "workflow" (process) of contract signing, at national and international level (Europe),
Ensure transparency and trust between the signatory parties.
4. ASSESS YOUR GDPR AND CYBER RISK COMPLIANCE!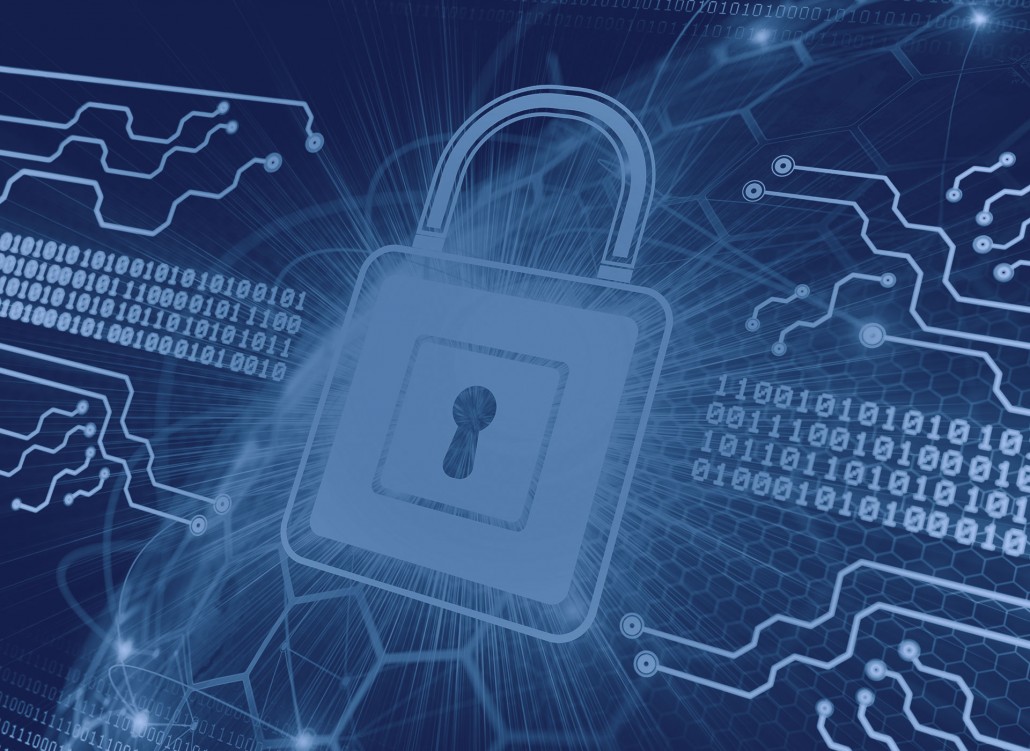 Today, Labgroup is the first independent provider to offer Cybermanager, a solution developed by its partner UBCOM, which is an assessment tool that allows business managers to evaluate in less than five hours their level of maturity and resilience of their organisations as well as their information systems facing cyber risks and GDPR regulation.
If the questionnaire is adapted to GDPR compliance, the approach should be viewed more holistically: an assessment of the organisation's actual level of maturity regarding information governance Information governance and resilience.
An opportunity for organisations to better analyse their exposure to risks and make text compliance a competitive advantage by increasing the level of trust of its employees, customers and partners.
Still not ready for 2018?
Labgroup consultants are available to help you optimise your management and archiving of your information assets.
Send an e-mail to servicedesk@labgroup.com to schedule your appointment without. 
https://www.labgroup.gi/wp-content/uploads/2018/02/GIGDay-2018.png
622
615
Cindy Reff
https://www.labgroup.gi/wp-content/uploads/2015/10/Logo-blanc-Labgroup-300x73.png
Cindy Reff
2018-02-15 11:27:45
2018-02-15 11:27:58
Information Governance Day 2018